Lower School
Stone Bay Lower School Curriculum statement
In the Lower School at Stone Bay we group our pupils into
Key Stage 1 classes
(years 1 and 2)
Key Stage 2 classes
(years 3-6)
Whilst we take pupils' age into account, how children are placed is flexible and depends on individual needs and abilities.
At Stone Bay school we aim to provide a highly differentiated curriculum within a safe, secure, stimulating environment. Our curriculum enables the children to learn and develop skills, attitudes and understanding across all areas of development:
PRIME AREAS:
Personal, Emotional and Social Development (PSED)
Communication and Language (CL)
Physical development (PD)
SPECIFIC AREAS:
Mathematics
Literacy
Understanding the World
Expressive Art and Design
Throughout the Lower School we plan activities, learning experiences and opportunities to work towards Early Learning Goals and National Curriculum K (Kent) Levels. Teaching and learning will take place within the classroom as well as outside.
Children will access these activities with adult support when necessary but always working towards being as independent as possible.
All pupils will have opportunities for child-led learning through periods of 'free flow' or continuous provision.
Developing Communication, Interaction and Engagement is embedded into everything we do.
Pupil progress towards both, individual EHCP and Curriculum outcomes, is monitored and assessed through our assessment systems
PUPIL ASSET
(Kent Levels)
The importance of play
We believe that play, both indoors and outdoors, is the fundamental way in which our children learn.
Through play, children will develop skills across all the Prime and Specific areas of learning. In a secure environment with effective adult support, children will be supported to:
Make sense of the world through exploration and investigation
Practise and build up concepts, ideas and skills
Learn how to control impulses and (begin to) understand the need for rules
Be alone, be alongside others and co-operate with others
Take risks and make mistakes
Develop creativity and imagination
Communicate with others
Begin to problem solve
Develop their independence
Adults will support play by:
Planning and resourcing a stimulating environment
Modelling play
Extending children's spontaneous play
Extending and developing children's language and communication within their play
Listening to all forms of children's communication and their ideas and take these into account in their planning
Narrating children's play and asking questions about it
We acknowledge that our children do benefit from sensory play and messy play and our classrooms are full of creativity and fun!
Our Curriculum Topics
Our children are at the very beginning of subject based learning and we teach curriculum content through topics. Topics have been developed collaboratively to ensure they cover programmes of study identified by staff as being meaningful and relevant, offering a balance of access and challenge, as we work to meet the pupils' individual learning needs. This ensures we get the curriculum offer just right for them.
KS1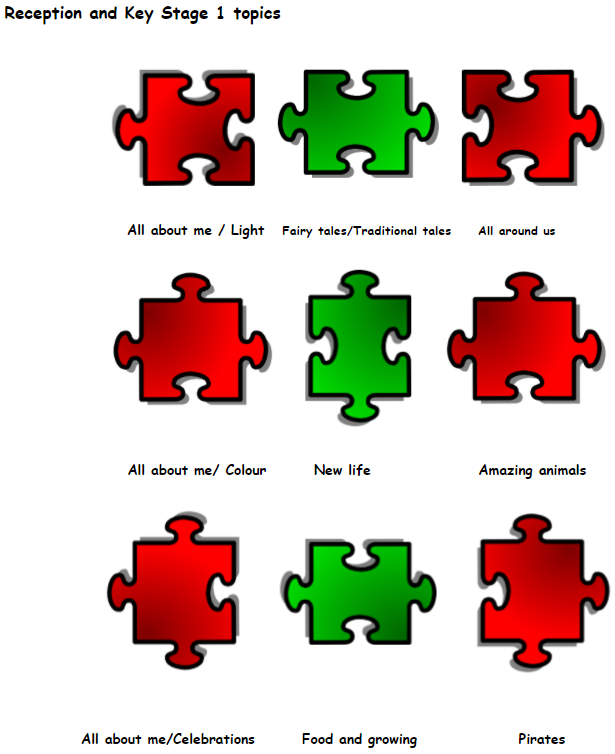 KS2