Pupil Wellbeing
We believe all children and young people at Stone Bay need to feel safe, cared for and have a sense of belonging.
Our staff create an atmosphere where everyone feels valued and where life chances are improved and children and young people take with them the ability to form meaningful relationships and access learning.
We strive to develop safety, security and trust through protection, connection, understanding and care. Changes in behaviours are a form of communication and the expression of underlying needs. It is not possible to support a child or young person's behaviour without addressing those needs. At Stone Bay, staff provide students with positive everyday interactions to maintain relationships and agreements. This promotes a calm and supportive learning environment, clear boundaries, predictable routines, expectations and responses.
At StoneBay we have a team of PROACT SCIP UKr trainers who train all staff. PROACT SCIP provides positive behaviour support training, equipping staff to deal with challenging situations and behaviours in ways that lead to positive relationships. The behaviour team personalise training to meet the needs of the school and support with writing and reviewing of the students' Individual Pupil Wellbeing Plans.
Through an ethos of nurture and empathy, responding calmly, staff manage behaviour, regulate emotions and build on students' capability for self-regulation, enabling the children and young people to feel that they belong, can achieve and can contribute to school, home and the community.
Zones of Regulation
The ability to focus your attention, control your emotions and manage your thinking, behaviour and feelings is called self-regulation.
We regulate our bodies, so they feel comfortable and safe.
The first step to self-regulation is identifying how your body and brain feels. There are four zones that help us with this. These are called the zones of regulation.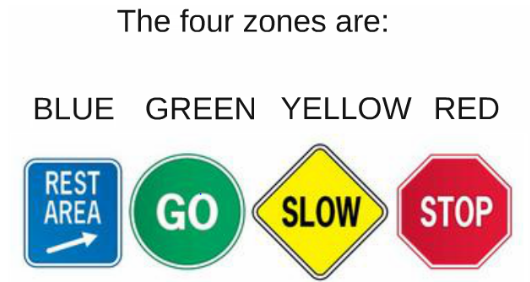 At Stone Bay School we teach our pupils to identify how they are feeling and which zone they are in. This supports them in accessing the right strategy to self-regulate.